Puppies / Adult Dogs for Adoption / Past Puppies / Testimonials/ Breeder Services/ Honor Page/ Jeremiah Joseph Page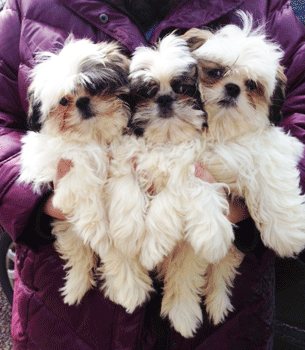 For Adoption
Male on the right born 12/10/16
Contact me at 570-379-2336
For Adoption: Dandy
Please contact me at Phone Number:
570-379-2336

Breeding Quality Shih Tzu in Northern Pennsylvania since 1983.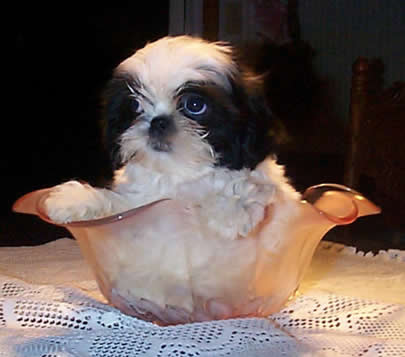 I hope you enjoy my "Precious Ones"!
They have been my teachers and have awakened me spritually
to many things such as loving unconditionally.
I raise puppies as naturally as possible.
My goal as a breeder is to enhance the quality of their lives
and increase their life expectancy to 20 years. Only those people
sharing these ideas need inquire about one of my dogs.
I will not take any risks that may affect their strong health
and vitality; therefore, I will not ship puppies.
I feel it is unfair and unhealthy to put them on a plane.
The freight, air pressure, fumes, dark and cold add
much stress to the puppies.
I also believe it is important for you to see the
puppies' parents and the environment from which
these precious ones were raised.
I have been an AKC Shih Tzu puppy breeder
in Pennsylvania for over 25 years.
Shih Tzu puppies areone of my deepest loves.
Over the yearsI have seen many beautiful imperial Shih Tzu's
tiny type Shih Tzu's and Standard Shih Tzu's.
All Precious Shih Tzupuppies come with a
health guarantee.
Only Deposits Hold Puppies
Please contact me with any questions you
may have about Precious and Few
Shih Tzu's at
570-379-2336
Please note

I am a legitimate dog breeder and do not accept payments online.
Over the years I have sold puppies to NY,NJ, Oh. Indiana, Delaware, Virginia, West Virginia, Florida, Rhode Island,Washington DC and Maryland even though I refuse to ship puppies.

It has come to my attention that unscrupulous scammers could create a
website similar to mine, or any other reputable breeder.
Please be careful when researching for a dog online. I would not
want anyone to be taken in by an online scam. For more information
please check out: Dog Breed Info
Shih Tzu puppies in Pa. - Standard Shih Tzus - Baby Shih Tzu's
Tripod ad's are not necessarily supported
by Precious and Few Shih Tzus
Precious and Few Shih Tzus © 2012

Questions or Comments About Web Site
Contact the Webmaster
Website maintained by Canis Designs